Ormus Minerals Gold Energy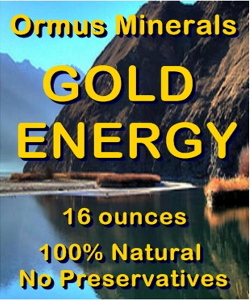 Ormus Minerals
Gold Energy

Made from the purest essence minerals from the best know source of Minerals in the World the Dead Sea Salts.

Contains a naturally balanced blend of different M-state elements along with natural Magnesium, Calcium and other essential minerals

Combined with Sole gives you the 84 minerals from the Himalayan Crystal Salt for a synergistic natural nutritional energy.

6 Reasons Sole helps boost Ormus Value

1

- Adds 84 minerals to support your health and energy


2

- Works synergestly to give you the raw materals for health & energy


3

-

Gives an additional

boost of energy when combined


4

- Gives your body all the minerals simultaneously
5

- K

eeps the Ormus in solution and bacteria free


6

- F

eeds your body and mind

Ormus Minerals Gold Energy Ingredients:

Ormus Minerals extracted from Dead Sea Salt and then infused with Sole (Solay) made from Himalayan Crystal Salt

The Essene say that the Manna made from Dead Sea Salt is 70% M-State Gold.

An energy that feeds your body and mind.
Internal Liquid
Ormus Minerals
Gold Energy

Natural Energy
Supplement

INGREDIENTS: Ormus Minerals from Dead Sea Salt, and Himalayan Crystal Salt Sole

SKU NUMBER

COST

INFO

BUY NOW

OM-005-OGE-004
4 ounces

$15.00

View
Details

OM-005-OGE-008
8 ounces

$30.00

View
Details

OM-005-OGE-016
16 ounces

$50.00

View
Details

OM-005-OGE-032
32 ounces

$90.00

View
Details

OM-005-OGE-064
64 ounces

$175.00

View
Details

OM-005-OGE-128
128 ounces

$325.00

View
Details